Court Appointed Special Advocate (CASA) volunteers are appointed by juvenile court judges to advocate for the best interests of abused, neglected, and abandoned children. CASA's goal is to help ensure all children under the court's protection have safe, nurturing, permanent homes where they can thrive.
Chesterfield CASA has provided a voice for children for over 25 years, with dedicated staff and volunteers who work diligently to ensure children are safe from further abuse or neglect and have their basic needs met, and to speak for them in court. The abuse and neglect CASA children have experienced is heartbreaking and sometimes unthinkable. Our court appointed special advocates, ordinary citizens doing extraordinary work, are steadfast in their mission to ensure these children's safety and wellbeing are assured. CASA volunteers are serious about improving the lives of children and changing their stories.
REGISTRATION IS NOW OPEN ! ! !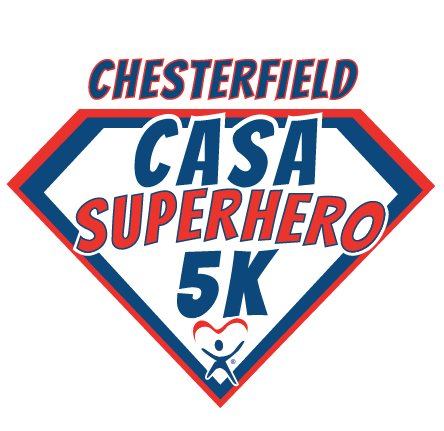 Chesterfield CASA Superhero 5K
October 8, 2023
Westchester Commons
Sign up today at
Change A Child's Story
Chesterfield Court Appointed Special Advocates, Inc. is a nonprofit organization that advocates for children involved in the court system for whom concerns exist about their safety and wellbeing. We recruit, train, equip, and supervise local citizens who become court-appointed special advocates that serve these children of Chesterfield County and the City of Colonial Heights. CASAs are committed to the best interests of children and to providing important and objective information to the court. CASAs make a difference in the lives of children.

Volunteer

Donate

News & Events